It's really Spring...
Mood:
celebratory
Topic: Spring '09
It's official, Spring has sprung here in Ottawa! Yipee!

It's been sunny and mild here for almost a week and we've lost about nine tenths of our snow. It feels great to have made it through the winter and to have such an early spring this year.
To celebrate this fine season, I took my old mechanical pony out for it's shakedown cruise, on Sunday past. It's hard to explain how it feels to get a leg over my old buddy again after months of non-riding, unless of course You ride too, then you probably know exactly what I mean.

Here's a shot I took down by theOttawa River Parkway with my little pentax, all mini-tripoded up and settin' pretty on a sun warmed picknik table.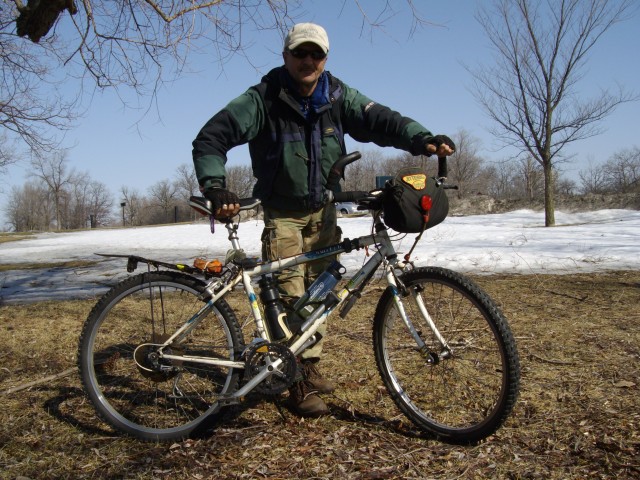 Did any of You get out on your bike this past week-end? How are Your legs doin'? Mine were a little wobbly when I got home.

I love the fact that you not only get in some great exercise but you get to go places and see and feel things to boot, on these metalic marvels. I love the fact that they produce No pollution, require no gas or feed of any sort and go as fast or slow as you want them to. You see things on a bike, ten times better than you see them in a car or van or whatever. You are tuned in to the weather around you, unlike in a car too. You are effected by the wind, unlike in a car, so you learn to lean into it with just enough force to match the pressure from the wind, to remain stable.
Biking is as close as man will ever come again, to riding a horse. The neat part is you don't have to saddle this one up every time you want to go for a ride. Or feed it hay and oats and stuff or even water the darn thing for that matter.

Talk about yer lazy man's vehicle for the poor or not wanna-be's or survivor types, eh! I can't say enough about why we should ALL be riding bicycles, but at least this was a start. Get riding in 2009!
Cheers,
Posted by larrybass at 9:29 PM EDT