A Twitter Type Treat To-day...
Mood:
bright
Now Playing: http://twitter.com/larrybourgeois
Topic: Tweet, Tweet!
Tweet, Tweet!
Well I've just hooked up with a cool outfit called Twitter dot com! I've spent a little time on there in the last few days and have seen pretty amazing results, so far.

You are limited to 140 character blurbs, which is about perfect for my type of data bytes.

These kool little 140 character blurbs are called "Tweets", so You Tweet, on Twitter! Now, I ask ya, how Tweet is dat?

Word also gets out really fast @ Twitter and responses come in steadily too. You can "follow" other Twitter users (Twits) as well and check out who they are following and the cool places they uncover too!
Here's a link to my new Twitter page Tweet, Tweet! so You can get an idea of how they look and work over there. If You like them, then just know that the sign up is painless and very fast. I Love the easy, fuctional and beneficial stuff in life!

If you want to spread Your URL or Your Blog or Your Facebook or whatever internet stuff you've got goin' on around the web, THIS is The Way to get goin' on that, quick-like! Twitter is Terrific!
Hope to see ya on Twitter in the future. Tweet me if and when You do get onto them, I'll be lookin' for You.

Item of interest number 2...
I dug these killer plugs out of one of my many tackle boxes yesterday and will be adding them soon to a brand new empty box for this spring's Walleye opener. The bone colored boy is the old Storm, Thinfin, "Fatso" in 3/8 oz with a nice rattley sound built in. He came out shortly after the Big-O craze started on the BassMaster Tournament Trail, years ago. Fish these days have Not seen or heard this crankbait before. That, makes it a Killer Krank, in my books!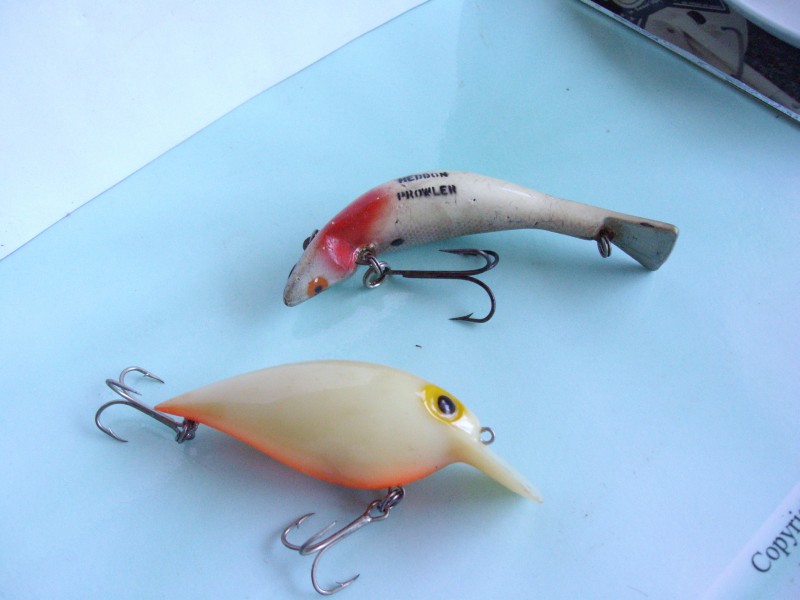 That other unique plug here is none other than another Heddon invention. Yup, it didn't get much play compared to the Spook or River Runt or Super Sonic, but this lovely little swimmer has saved the day for me more than once when the bite was tough. She's a floating/diving lure with a beautiful wobbling, shaking, swimming action that tracks very well at fast retrieve speeds. You'll notice that I've customized this already, deadly lure with a higher tail swimming and looser action, by adding a larger hook to the front hook hanger and removing the tail hook completly. Oh ya, contrary to popular belief, this ONE treble hook arrangement on my plugs does NOT cut down on hook-ups, as far as my ratio shows anyway.

I have this lure in two sizes and three colors and wish I had a dozen more in ANY size or color. The "Prowler", by Heddon, is THAT Hot!

And now...
Here are three Very Powerful sofcovers that will explode Your present Treasure Hunting knowledge base. From newbie to vet, You will benefit greatly from any of these superb books about the excitement and adventureous hobby/sport/science, of Metal Detecting, Coinshooting and Treasure Hunting! I guarantee it!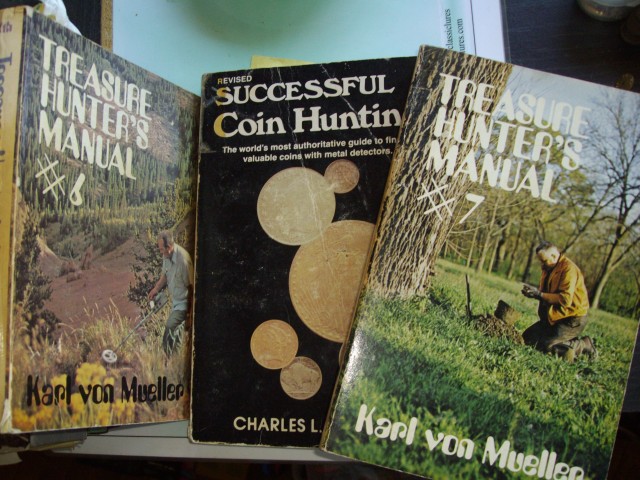 Have a SUPER day!
lb
Posted by larrybass at 8:19 AM EST
Updated: Sunday, 1 March 2009 1:29 PM EST