Is that a nibble??
Some Good Links
*********************************************************************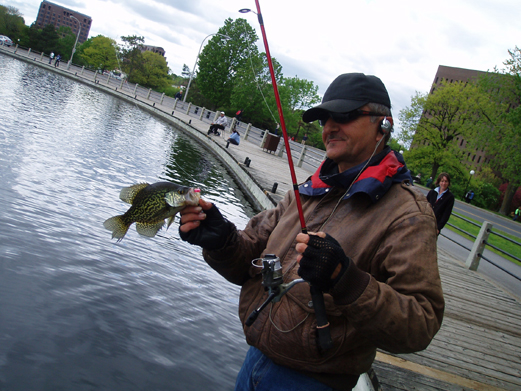 Even the little guys are FUN...
Canadian Angler@Large
Take Me Fishing...
Hi there folks,
I'm LarryB from Ottawa, Ontario and I'd like to Thank You for landing on this tiny little piece of web real estate to-day. This little page was built just for YOU if you are the type that enjoys this wonderful sport and or wants to know more about it. This page is my answer to the comment that I've heard more than a few times over the years, Larry, Take Me Fishing! :-)
If you are lookin' for some Cool fishin' stuff and some good fishing related links, I think you've landed yourself a whopper here to-day. Some of the hyper-links will keep you busy with neat stuff for hours. If you enjoy your adventures in bite sized pieces, this page could be a good "jump" spot, so be sure to bookmark it or add it to your FAVES to make it easy to get here, quick-like the next time, when you have a little more time on your hands and need to relax and unwind a little...

I have been into fishin' just about all of my life and have always found it to be a very special sort of natural medicine. It is a large part of what has kept me sane in this, what I've come to call, wild and wacky world of to-day. ;-)
Although I have caught almost every type of freshwater game and panfish that swims, my favourite fish to pursue most of the time is the bass. Largemouth or small, I love 'em all. I grew up on the small jawed variety that lived in the clear-water lakes in the Sudbury area of Northern Ontario. There were plenty of trout to be caught in the streams up there as well and THAT was my finesse fishing, learning curve, at it's best. Trout possess the four S's essential to their life. Trout are Smart, Spooky, Skittish and Shy. :-) They are a real challenge to land usually too, unless you pretty well know what you're doing. Native Brook Trout are also very fragile as well. They do NOT handle pollution at all. I always feel very privledged to fish for and catch these beautiful little fish in their native environment. As in all my fishing, I release over 95% of the fish I catch but I must say here that I have certainly eaten my share of impaled on a stick, open campfire cooked, Brook Trout, over the years. Each spotted beauty seeming to be flavored even better than the last. Right down to the cooked crispy, bacon like fins. So beautiful, so healthy and oh so tasty...Can't you just smell them broiling over that little stream side fire?

Some of the very best and easily the most exciting fishin' encounters I've ever had, have been battles shared with brawling, slashing, crashing and thrashing and absolutely wild and violent, Largemouth Bass. Especially the ones livin' in those thick shallow weedy and stumpy areas of the lakes I fish. The thicker the weeds get, the better the little Moss Boss performs. This wicked sultress and her seducive sashayin' about and flippin' her skirts act, will Blow any Big ol'Bassy's wee mind! ;-) Trust me... You see, at certain times these wild creatures can and will hit this lure like a freight train. Huge hogs can sound like someone threw a three hole cinder block in the lake, beside the boat, when they bust a surface lure only ten or fifteen feet away from the tip of your fishing rod. Lily pads, duckweed, old leaves, gucky moss and gooey gobs of slippery slop fly everywhere, including on yer bassin' cap and in your face, half coverin' yer shades! I mean like, Watch Out when those big, brutal, battling bassies get into attack mode, at close range! Talk about getting in your face! :-)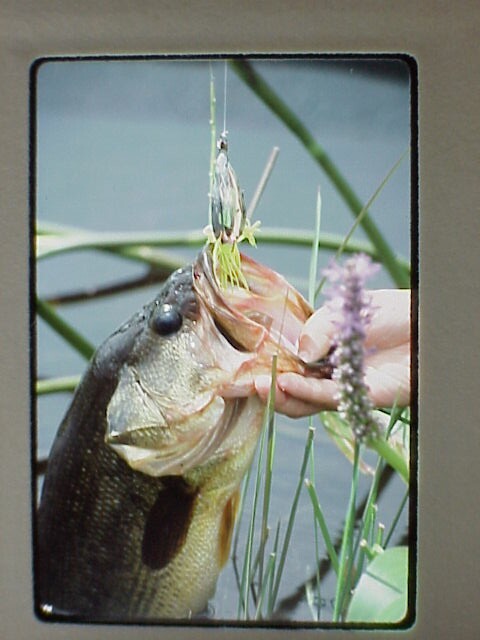 A Moss Bossed Bass, by Bourgeois!
At other times, when the surface is like a mirror and all is still, these very cool wild critters (especially the small mouthed variety) can slip a bobbing Tiny Torpedo underneath the surface so quietly, you wouldn't even know it, if you hadn't been watching real close like and sort of just seen the bait simply disappear from where it was only a nano-second before...Plus they can spit 'em back out again just as fast. You've gotta hook 'em as soon as you see that the lure is gone. You can't be taking your eyes off your lure at all if you wanna catch more fish. Glue those ol' eyeballs to that there bait, Son, and don't take 'em off of it fer a second! ... or else you'll be singin' the no fish blues again...
:-(

Still, for the sheer RUSH of it all, even after all these years, it is the actual VISUAL attack of a marauding largemouth bass at the surface, that it's all about for me. Swishin' a Zara along at a fair pace or Gurgling a triple blade buzzer at a decent clip, can and will provoke AWESOME explosive charges from very hostile bass. It won't take too many of these WILD ATTACKS for you to get hooked on this exciting form of fishing too. I can GUARANTEE it!!!!Even when you don't get a good hook up, the excitement level going on during one of these crashing, smashing strikes are definetly adrenaline pumping stuff and could even be cause for a heart attack.
I can see it all now. Poor 'ol Fred, may his soul rest in peace, done had himself a big ol' massive BassAttack out on Lake Hogfish yesterday. He was out testin' his new fandangeled buzzin' bait dressed with a downright dirty piece of sowbelly stuck on the hook for a little extra enticement. Turns out he should have left the pork off that already deadly hogkiller with the bionic blastblipper subsonic super slit micro-holed and finely tweaked, custom alloy blade. Warning! If you wanna add PIGGY to your hot lures, you had better make sure your heart is in good condition or at least your insurance is up to date. The stuff definately makes them ol' Bassies MAD! :-)


Yup. Yup. Bassin' is not really a sport for wimps but it can make boys out of the most hardened and talented professional fishing men at times, to be sure.
Believe it or not, although it's hard to admit it sometimes, I TOO, have had my share of really tough days when I couldn't catch a bass if you paid me to. Well, nothing legal sized at least. Knowing that everyone has had days like that, makes it a little easier to accept the fact that a creature with a teeny, tiny brain, can skunk us so badly on occasion. Bass fishing or for that matter, any kind of fishing, can be a little trying or even frustrating at times but that is what helps us to develop character. Makes you try to understand more and figure out why any "bad" things happened to you out there. You see, when you cancel out enough of the no's, you start gettin' into the yes's. Things start clicking and you catch more and or bigger fish because you eliminate all the negative stuff to get to the positive stuff. Takes a little time, lots of patience and a mess of knowledge. Gaining knowledge is a little like work sort of so try to remember that I've always said that a rough day of bass fishing is worth two of the best days at work or school or whatever. :-}

Killer Tip...
Here's a real secret for you. A very large part of catching fish, consistantly of course, is having a good positive mental attitude about it all. In fact once you attain a lot of experience, and your mechanical skills are up to snuff, a positive attitude is EVERYTHING. Don't let negative stuff mess you up. Ever. Do not dwell on negative things. They will only get bigger. Turn everything going bad, into a positive thing somehow. You might want to hang with positive people, especially with folks that seem to always catch a lot of fish at tourneys! Keep feeding your knowledge banks everytime you are out there on the lake or river. Keep sharpening your skills and maintain your attitude about getting better at everything all the time. Keep learning. Always. If you are fishing and don't learn at least a dozen things a day, maybe you'll want to take up chess instead...Apply what you are learning to what is at hand and remember what worked before. The more you know, the better your chances of scoring a bunch of fish. Positive thinking creates positive results...

NEW !! I now have a few semi-old lures in second and third hand condition that some of you may be interested in. There is a Pflueger Muskill, an old Archer Spinner, Two Heddon Tony Spinners, a couple of River Runt Spooks, a Jointed Wood Vamp, a Lazy Ike, a Charles Helin Fishcake and a few others. They have all come out of old fishing boxes, not off a chainstore pegboard. All are still very fishable but mostly they are just quite collectable. I just want them to go to good homes so I'm not asking too much for any of them. Send me an E-mail about this neat 'ol stuff anytime, Subject: Those Cool Old Lures... Cool ol' Lures

Speaking of kool ol' artificial lures, check out this little beaut...
Seen below, is just one of the very kool old lures you will find over at ClassicLures.com which is a Canadian tackle collector website, operated by my very best friend, Bruce. Just click this cool old Heddon Weedless Widow, to go there right now, if you want to see a few nice ol' wooden lures owned originally by someones great grand dad. Don't worry, a new window will open up so you don't lose your place here on this page. :-)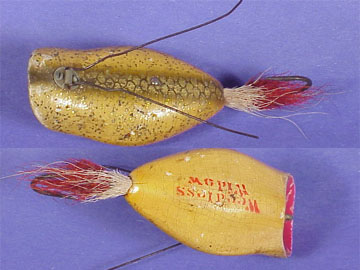 ClassicLures.com
There are lots and lots of neat Outdoorsy Spots for you to visit below. Slip over for a bit and see...
Outdoors Network Partner


Cruise some of my favorite links and explore a few of the kool spots that I really like a lot. You can also try out some of the links to some of the other pages that I have built personally, to express my views, interests and desires and to help anyone, in some small way, to gain more appreciation for the Great Outdoors and even to just having a better life in general. Enjoy...

My Original all flavored website...
FISHING
It's Still Man's Favorite Sport!
I have been a Lifetime Member of this wonderful Fishing Club for over twenty five years now, and I'm here to say, they are THE BEST of all the fishing organizations, worldwide! If You like Bass fishing, You owe it to Yourself to Join B.A.S.S. to-day! You will NEVER regret it. :-)

Canadians Rock !
Blogs are getting very popular out there these days on the world wide web, so I of course just had to start an Outdoorsy related little bloggy thingy myself, to see where I could go with that. If I like it, I just may build a few more. :-) In this one, there is even a comments section, like a guest-book, for You to post a note in, if you want. :-) Here's the fast link to, LarryB's Blog Go have a look-see...
Do you want to visit some of THE Smartest fishin' folks in the world? Then just click the banner-link below!

This lure has been in my tackle box for over 40 years. The reason? It works! Make double sure you have a few of these long-time, killer, Finnish Wablers, in Your tackle box!

If You haven't heard about Hubpages yet, here's a link to my new Fishing related Hub over there for You to check out. It's free and totally easy to put up a Hub as they call these sort of Mini-websites, over there. There are some very Cool folks runnin' the place, so that also makes it a nice community to hook-up with. Lots of help available if you need it, as well. You just may find yourself interested in creating a Hub over there too, after peeking around for awhile. You never know...
Here's the link to my Fishing Hub. Fishing Stuff After you're done checking it out, look around the Hubpages site and maybe hook yourself up with your own, brand spankin' new Hubpage too! :-)
Send an E-Mail anytime, about anything to do with Fishin' stuff, to me right here. :-)
larryb
Hey!! What are you still doing in here?? :-) Bookmark this site fast and....
Take Me FISHING! ...
This little Northern Fishing website was totally hand built and is maintained, with Love, for Your pleasure and enjoyment, by Larry Bourgeois, aka LarryBass...
Entire Contents of this mini-website are Copyright (C) 1998 - 2012
By
Larry Bourgeois, The Outdoorsy Canadian Webmaster/Blogger/Lensmaster...
Thanks for surfing by, fisherman
Please take a cast in here again!
Peace Out...